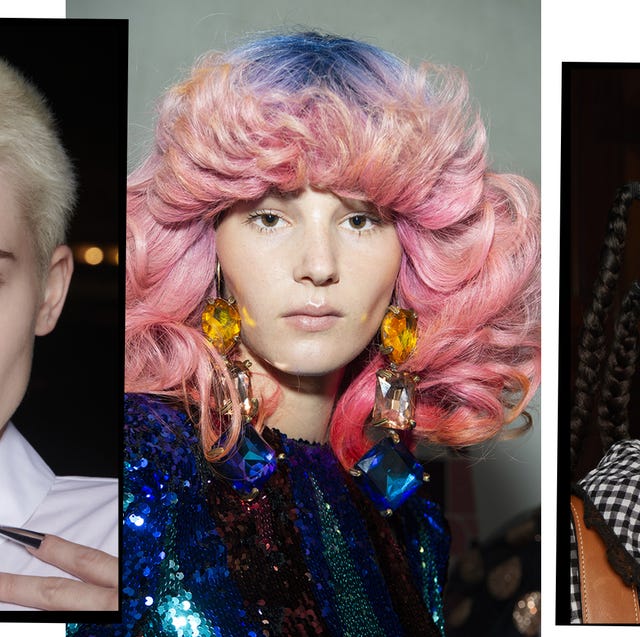 Imaxtree
A new year calls for embracing a whole host of new things, including a shiny new hair look. Because, with a new year comes the perfect excuse to return to the hairdressers and an opportunity to replace our grown out roots and DIY box-dyed greys, with a fresh new look. Our 2023 mantra? 'Bring on the hair dye!'
Luckily, there's a whole host of new hairstyles and hair trends just waiting to be experimented with.
Whether it's the return of 1970s Farrah Fawcett flicks but with a technicolour Barbie pink twist, or working this year's hottest hair finishes (the bouncy Chelsea blow out, ultra shiny lengths and slick updos are so hot right now), the new year is the perfect time go big and bold and test out the most coveted hairstyles and hair trends working their way down the runways and onto the streets.
Not sure what's in and what should be left to last year? We asked the industry's top hairstylists and colourists to reveal what they predict will be the biggest hair trends of 2023 and their pro secrets for making them look good.
2023 Hair Trends To Try ASAP
'One big trend I predict to see everywhere is the big blow out, or Chelsea blow out, as I like to call it. It's about beautifully coiffed glossy blowdries. Luxury 1970s vibes with maximum shine and movement.
'My favourite tool for getting a big blowout is the Babyliss Big Hair 50 mm. Just blow dry each section as you normally would with a round brush and pin each section into a large curl whilst it dries. Leave to set, brush through with a Mason Pearson and then warm up a little Kerastase Elixir serum in your hands and glide over the hair to remove fly aways.
'The best tip for a long lasting blow out is to apply dry shampoo on the hair directly after you finish drying. This will not only give volume, but absorb oils from weighing down the hair from the get go. It's exactly like using a translucent powder to set make-up and keep excess oil at bay.'
– Christian Wood
'As we go through into 2023, we'll still be watching this cultural shift with more people embracing their amazing afros and stunning curls. Go big or go home with twist outs to create texture and movement, or finger curling to get your curls to pop. There's a shape out there to suit everyone, so why not get creative with a soft fringe, a curly pixie cut or a shag.'
– Pashcan'el Mitchell, Lead Educator For Afro And Textured Hair at Blue Tit London
'Now who doesn't love a facelifting ponytail? The key here is to adapt it to suit you. Keep some root lift at the crown for a little volume, leave out a few face framing pieces to soften. You can change up the ponytail in so many ways: straight feels powerful and a little strict, bouncy with waves can feel playful, twist it up into a 1990s-inspired knot for effortless cool.'
– Sam McKnight
'If your hair is a bit greasy or if you need to switch up a look from day to night. Pull it back and add an accessory. It's so easy and looks seriously chic.'
– Syd Hayes, Babyliss Ambassador
'2023 is the year of reds. We're well underway for seeing 2023 mark a big resurgence of red. Red in its many different palettes; think beautiful rich coppers and deep, warming auburns. What will be key is over enhancement of our natural colouring, looking at what hair tone we have, and then really enhancing that, taking it into that supernatural red tone.'
– Adam Reed, International Hairdresser and Founder of ARKIVE Headcare and Adam Reed London
'I think we're going to see shorter lengths and more layered styles make a resurgence. Curtain bangs are still trending hard and a great way to make a change. Having a fringe myself, OUAI Super Dry Shampoo is a must for me to maintain my style, it absorbs oil and instantly refreshes me.
'If your hair is damaged, it'll be a great year to start fresh and opt for a shorter cut. I always recommend bringing pictures to your stylist if you have a cut in mind just remember to look for inspo images that are similar to your hair type.'
– Jen Atkin, Founder of OUAI
'1970s shapes are really on trend at the moment and are set to be even bigger in 2023. Blow outs with lots of volume and juicy curls to finish it off. To style this cut and blowdry, use a volumising spray such as Oway Volumizing root spray and finish with Blue x Oway Next Day Cream for the best retro blowout.'
– Pashcan'el Mitchell, Lead Educator For Afro And Textured Hair at Blue Tit London
'The Barbie[inspired blonde hair trend has been gaining traction since Anya Taylor-Joy and Gigi Hadid were seen sporting very long platinum locks earlier this year, and with the much-hyped Barbie movie, bleached 'Barbie Blonde' is going nowhere!
'When it comes to bleach blonde, keeping the condition of the hair healthy is essential – my top home care combination is to use Olaplex No.3 before you shampoo, which will repair your strands on a molecular level, and swap out your conditioner for Olaplex No.8, which will deliver a surge of moisture and softness.'
– Tom Smith, Hairstylist and Trend Forecaster
'Androgynous cuts are paving the way for 2023. We're already seeing that Linda Evangelista-inspired sharp bob with a luminous, short Elvis-inspired quiff reign, and more gender-free styling is expected to continue and shine thoughout 2023. There's a really beautiful androgyny to what we're seeing coming through.'
– Adam Reed, International Hairdresser and Founder of ARKIVE Headcare and Adam Reed London
'In the last few years we have seen a significant focus on taking care of ourselves. Making space to feel good, slow down and move through the world with intention. Black men and women are often left out of this conversation. I launched my hair care brand This Hair of Mine in May, extending this philosophy to the way you approach taking care of your hair and prioritising the needs of hair that's rich in texture. Through luxurious haircare rituals we're inviting you to reclaim your self-care practice with intelligent solutions that are nothing short of exceptional.'
– Cyndia Harvey, Founder of THOM
'2023 is going to be about the chunky bob. Bobs aren't going anywhere soon; I still think that there's a bob for everyone whether that's jaw length, long, rounded, short, curly etc. But, now there's a chunkiness to how they're being cut – they're a bit heavier on the ends and I think that gives you the ability to wear things a little bit more amped up. You can go for a Nineties supermodel blow-dry worn flipped over to the side with lots of height at the front, or you can wear it really straight with a middle parting.'
– Luke Hersheson, CEO of Hershesons
'Wispy bangs are absolutely stunning, and as more people venture into the bold decision that is to bang, or not to bang, the answer in my opinion for this upcoming year is this take on the trend. Wispy bangs are a more delicate take on the classic fringe with longer piecey layers on the outside, and the shortest pieces in the middle.
'In order to achieve the perfect wispy bangs moment, ask your hair stylist for a feathered, piecey bang, rather than a blunt chop. As for styling, I'd recommend a hairspray like my Andrew Fitzsimons Body Volume Hold Spray to ensure your bangs aren't moving around all day, and, if you have curly hair, opt for a curl cream like my Andrew Fitzsimons Fantasy Curls Curl Crème to enhance those locks!'
– Andrew Fitzsimmons
'We all need a bit of sophistication in our life. I see a deep side parting as power hair. It can range from sleek straight glass like hair with super shine, to big curls and attitude. My key tools for these would have to be the BaByliss 9000 Cordless Straightener for the sleek straight look and the BaByliss Hydro Fusion Hair Dryer (using the diffuser).'
– Syd Hayes, Babyliss Ambassador
'Ever since Valentino sent a totally pink collection down the runway I've been waiting for signs that 'Barbiecore' pink is making its way into the hair world. We're seeing the beginnings of interest in the softer shades of pink but as this grows in popularity I feel sure we'll be seeing the super intense, saturated version of this shade as well.
'If you're already blonde, consider a temporary wash of pastel pink to dip your toe into the trend. Pink tones need to be applied to lighter bases so have your stylist add highlights first if you want to try a pink shade on darker hair.
'Also, pastel pink fades very quickly so have your colourist mix you a pigmented conditioner to take home to top things up when you wash your hair.'
– Tom Smith, Hairstylist and Trend Forecaster
14. Radical Self Expression
'Radical self expression is the pinnacle of beauty for 2023. This doesn't necessarily mean that you're wearing a full face of glitter. It's in the unassuming expressions too.'
– Cyndia Harvey, Founder of THOM
'Expect shiny hair in 2023! Think smooth blowouts, high shine and freshly glossed strands for healthy looking hair. A gloss at the salon or at home can boost shine, add vibrancy, and reduce breakage. Breakage can decrease the overall shine of your hair so add a hair mask to your home routine to keep strands hydrated. I use the OUAI Treatment Masque weekly, it makes a huge difference. Also, finish any style with a little hair oil for a perfectly polished look.'
– Jen Atkin, Founder of OUAI
'The other thing we'll be seeing a lot of is really slick updos. There's been tonnes of tight, almost Croydon facelift pull backs on the red carpet recently, whether its something more elaborate or a ballet bun. Lashings of Hershesons Everything Cream mixed with the Zhoosh Foam can give you that tight pulled back feel that looks dressed up without looking old fashioned. There's a modernity to the slickness of the front and then detailing in the back.'
– Luke Hersheson, CEO of Hershesons
'We saw a lot of wet looks at the shows, even though it's possibly not the easiest hair to wear. The key to doing this at home is really about wearing a more polished, masculine silhouette. Wear your hair sleeker, think less messy and more groomed. A side parting can be the secret for that slight nod to the masculine. It's really all about gel or cremes for a wet look – try the new Hair by Sam McKnight Self Control Gel. If you want the finish to be a bit softer I mix it with a leave in conditioner, such as my Hair by Sam McKnight Light Nourish.'
– Sam McKnight
Advertisement – Continue Reading Below